Downtown Bristol Blog
Source: Bristol Herald Courier | Bristol, Tennessee/Virginia has been named ShopOnMain's most "Charming Town" in America and willnow be featured in an upcoming episode of the TVseries "Small Town, Big Deal."
The onlinecompetition separated various cities from across the country into three categories – bustling, charming and quaint – depending on population, with one winner named in each category.
More than 100 cities were part of the competition with more than20,000 votes cast. Bristol received 3,640 votes, garnering more than 700 more votes than the runner-up, Holland, Michigan, according to a news release.
The Bristol Convention and Visitors Bureau spearheaded a campaign to make local residents aware of the contest and get them to vote.
"We are very excited to see Bristol Tennessee/Virginia win the Charming Town category in the Best Shopping on Main Contest," said Matt Bolas, executive director of the Bristol CVB. "Bristol's downtown is so vibrant and unique that we knew once the local community and visitors realized that we were in the running for this prestigious honor, we had a great chance to win.
"The true winners of this contest are our businesses, restaurants and retailers who make historic Downtown Bristol a great place to shop."
Believe in Bristol Executive Director Christina Blevins is thrilled that Bristol is being recognized nationally.
"Shopping in downtown Bristol is truly blossoming, from antiques to clothing stores and art galleries and so much more, Bristol really has it going on. Seek the unique! Believe in Bristol thanks everyone for their support downtown and we hope to continue with this type of success! Congratulations downtown Bristol!"
Along with being featured on "Small Town, Big Deal," Bristol also figures prominently on ShopOnMain's website — www.shoponmain.com/l/bestshoppingonmain.
Ralph Peer II took time to visit the Birthplace of Country Music Museum for the opening of a new display honoring his father, Ralph Peer, the legendary producer who recorded the 1927 Bristol Sessions. Using artifacts loaned by the Peer Family Archives, the display gives visitors a glimpse into Peer's influence beyond the Bristol Sessions and country music.
"In terms of creating his own publishing, it happened due to the Sessions that happened here in Bristol," Peer said during his visit.
Peer is now the Chairman and CEO of his father's empire at peermusic, the largest independently owned music publishing company in the world. From The Beatles to Justin Bieber, peermusic holds over a quarter million copyrights to a vast array of music titles internationally.
The Ralph Peer display is integrated into the Birthplace of Country Music's permanent exhibits and will be open through August 1.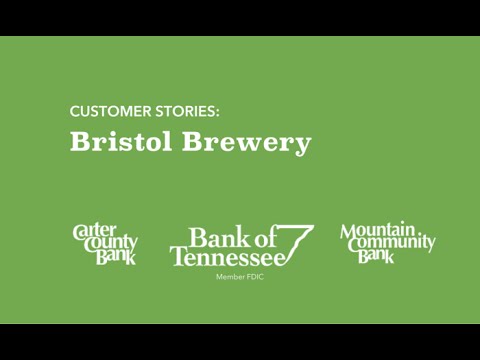 Bristol Brewery has just been featured on a 2 minute long video produced by Bank of Tennessee as part of a series featuring their customers. Learn more at https://www.facebook.com/bristolbrew/
Downtown Bristol Events
April 6 | Birthplace of Country Music Museum
The Director of the Center for Popular Music at Middle Tennessee State University, Gregory Reish, Ph.D., will offer a lecture and demonstration on the guitar styles of musicians who recorded on the 1927 Bristol Sessions. The focus of this fascinating program will be on Mother Maybelle Carter's fingerpicking style known as the "Carter Scratch," and Alfred G. Karnes' technique on the harp guitar, among others. Admission is free.
April 8 | Downtown Bristol
From 6:00 p.m. to 9:00 p.m., downtown will be filled with art lovers as several galleries and some local favorites join together to host another Art D'Vine event! This art walk offers patrons the chance to gain after-hours access to merchants, sample domestic and international wines, and enjoy a range of works from artists across the region.
As with the previous gallery hops, participants are invited to stroll around Historic Downtown Bristol, stopping at Benjamin Walls Gallery, A Work of Art Gallery & Gifts, Birthplace of Country Music Museum, Kil'n Time Contemporary Ceramic Studio, Blackbird Bakery, Bristol Public Library, Hatching Perspective Gallery, as well as featuring shows from two students from King University: Rachel Burrus & Tessa Klingensmith. Refreshments will be provided and participating locations will feature different varieties of wine for sampling.

The Art D'Vine galleries will be highlighting various special events, releases or artists, including:
Birthplace of Country Music Museum -The Birthplace of Country Music Museum will be featuring local artist Nick Freeman. Nick will be displaying charcoal drawings, mostly of Bristol landmarks. They will also have the special exhibit, "Made in Tennessee" open for guests to enjoy free of charge for the evening.
Bristol Public Library -Bristol Public Library will be featuring two artists for Art D'Vine – Nancy Steele and King University student Tessa Klingensmith!

Nancy C. Steele exhibition will hang the months of March and April. Mrs. Nancy Steele is a graduate of Roanoke College. She taught elementary school for twenty years in New Jersey. She has studied with a number of artists including Donna Dewberry, Steven Reeves, Judy Dench, and Kitty Williams. She is certified to teach the Donna Dewberry One Stroke Painting Method, Level 1 and 2 and works on all kinds of surfaces including canvas, wood, glass, plastic, tile, and ceramics.
Tessa Klingensmith is an artist working in the mediums of photography and graphic design. Regardless of the medium, narrative and story have always driven her work. Words Remain is a series that explores the elements of design combined with typography. This project combines two of her passions, creative writing and design to create a personal series of visual poetry. Tessa is a senior at King University studying Digital Media Art & Design. She has had work featured in local galleries as well as juried competitions including a short film screened at a local film festival.

Benjamin Walls Gallery – Be one of the first to reserve Benjamin Walls new book entitled, "Beyond," which will include a foreword written by entertainment icon Dolly Parton. Beyondis a compilation of Walls' best work and will feature all of his museum-exhibited pieces. It has taken Walls 12 years, one million miles of travel, and 300,000 exposures to capture the images featured inBeyond.A first look video and the book, which will begin shipping to clients in November, are available now through the Benjamin Walls Gallery and atwww.BenjaminWalls.comat a special pre-publication price.
H.P. King Room (at the Foundation) – Rachel Burrus is a local artist and professional photographer. Her love of art began at an early age, eventually guiding her to a passion for photography. Her creative design typically focuses on vintage styles. Burrus is a senior at King University majoring in Digital Media Art & Design with a minor in English. She has had her work featured in local galleries and will be showcasing her gallery exhibition Ethereal. Ethereal is a surrealist fine art photography series that explores how dreams evoke emotions within the human soul and how people continuously reach for a heavenly state or enlightenment.
A Work of Art Gallery & Gifts — The 40+ local artist vendors have been working hard to bring in new work for you! Small, unique items that make great Mother & Fathers Day gifts are available starting at $2 – gifts like hand-painted wine bottles, handmade pottery, postcards and note cards. Larger items from $20–$1,000 will truly make a statement – paintings, furniture, photographs, and stained glass.During this exclusive after-hours shopping experience, you'll have help from multiple artists on-site, so you can be sure to find A Work of Art – a truly unique and memorable giftto give this spring!
Kil'n Time Ceramic Studio – Be sure to stop by Kil'n Time Ceramic Studio for a special discount during Art D'Vine only! Kil'n Time is one of the largest paint-your-own pottery studios in the nation, and it's located in Downtown Bristol! They offer a wide selection of ready-to-paint ceramics for both children and adults, as well as fused glass and mosaics. Not a natural born artist? Not a problem! Kil'n Time now offers new coloring book bisque – they outline the design, you make it your own and color it in!
Blackbird Bakery – Don't forget to pick up some made-from-scratch sweet treats at Blackbird Bakery, listen to renowned Gerald Sheppard perform a program of acoustic instrumental guitar, and of course meet and greet with featured artist of the month, Bob Ellis! Ellis lives and works in Bristol and nearly all of his photos are of the local area. All of the images have been captured with a simple digital camera and several of the works feature his custom hand-made framing as an integral part of the piece. His greatest wish for his presented work is that people find themselves lost in thought or otherwise transported from the here and now.
Hatching Perspective – The Bristol Virginia School Board office on LeeStreet will exhibit artwork completed by Bristol Virginia Public School students for public viewing. There will be some fantastic middle school art from Jan Black's students; paper craft, origami, presidential portraits, and shades of color.
This event is free to the public, though there is a suggested one-time donation of $5 with the proceeds supporting the work of the Arts & Entertainment District of Historic Downtown Bristol,
April 8 | Paramount Center for the Arts
The one consistent thing about life is change. Things around us are constantly changing. So when a group like Triumphant Quartet maintains consistency, it speaks volumes about whom they are and what all they have accomplished.
Triumphant is the face of quality Gospel Music, Christian integrity, family values, friendship and dedication. The group has been that way since their beginnings in 2003, when the four friends first walked out on to the stage of the Louise Mandrell Theater, in Pigeon Forge, Tennessee as a headlining talent. Each current Triumphant group member was there in that defining moment, and has continued together ever since. Their smooth harmonies, and rich quartet sound quickly gained them national attention, recognition and concert demand.
That popularity promoted the group in 2008, from singing daily at the theater, to touring nationally and performing in major concert venues, auditoriums and churches. It has also voted them the Fan Favorite Quartet in the Gospel Music field for the last six years, and each group member also being nominated for and receiving various awards. Triumphant Quartet has had three #1 Songs and several others have climbed the Top 40 music charts, which has also contributed to their popularity.
Gospel music fans agree that the triumphant sound is distinctive, solid quartet singing. But Triumphant excels in diversity, and also expands their musical borders to a wide variety of styles, that is enjoyed by church audiences and music lovers. When Triumphant takes the stage, the audience is entertained by the musical variety, the engaging personalities and a bond that is brought together by years of friendship. Audiences will find themselves smiling, laughing, crying, encouraged and uplifted. And most of all, they will walk away having had the Gospel Message presented to them in a powerful way, with a hope that many will receive Christ as their Lord and Savior. Jesus Christ is the focus of Triumphant. He is the reason they sing, and these four gentlemen stay consistent and steadfast in their goal of giving their very best in all they do and every song sung.
April 8 | Bristol Ballet
Join Bristol Ballet for a Rumba lesson at Bristol Ballet Studio. The lesson will begin at 7:30pm, followed by dancing from 8:30 – 10:30 pm.
Cost is $5 per person. All proceeds benefit Bristol Ballet, a 501(c)3 non-profit.
Refreshments will be provided, but a snack to share is always welcome!
April 9 | Bristol Chamber of Commerce
Bristol Chamber will host a Make & Take Rain Barrel Workshop Saturday, April 9 at 10am. Cost is $35. Limited space is available. Reserve your space today at 423-989-4872 or klowdermilk@bristolchamber.org.
April 9 | Birthplace of Country Music Museum
Bring in the whole family for musical activities, stories and songs, homemade instruments, and more!
April 11 | Bristol Public Library
Bristol's Virginia Intermont College closed its doors in 2014 and sits vacant overlooking downtown Bristol. While the administration of the former college has been working to transition the campus to another use a former facility member has chronicled its history. Mary Lou Smith has just published her book, Virginia Intermont College: One Hundred and Thirty Years, and she will be presenting an overview of her research on the college history. The program will be presented to the Bristol Historical Association on Monday, April 11 at the Bristol Public Library at 6:30pm. A book-signing will follow.
The foundation of Virginia Intermont College provided education opportunities to a group that had been overlooked — women. In 1884, Rev. J. R. Harrison, founder of the college, defied opposition to the idea of higher education for women to establish what was then called the Southwest Virginia Female Institute. By 1891, the institution had outgrown its original facilities in Glade Spring, Virginia, and moved to a new complex in Bristol, Virginia. It became one of the best-known educational institutions in the Mountain Empire.
Early on, Virginia Intermont attracted students from around the world to its prestigious and unique programs. From one generation to another, thousands of young people have had unique and valuable experiences. In 1972, the college extended its influence by accepting men into its programs and instituted accelerated degree programs for working adults. From the very beginning until recent decades the college was associated with the Baptist General Association of Virginia and due to substantial difficulties it closed in 2014.
Author Mary Lou Smith, a 1955 graduate, was among four sisters who graduated from the college. She went on to earn additional degrees from East Tennessee State University and returned in 1957 to begin her tenure on the Virginia Intermont faculty, which lasted until the college closed its doors. During those years, she has taught a variety of physical education and health courses and served as coach of the women's swim and tennis teams. She is a dedicated teacher and has been bestowed many honors by the college, including an honorary Doctor of Science degree, the first ever Presidential Award, Distinguished Alumni Award, Outstanding Faculty Award and is listed in "Who's Who Among American Teachers." In 1993, the college's Smith-Canter gymnasium was named in her honor as well as another longtime instructor.
Smith's book chronicles the history of Virginia Intermont College from its beginning in 1884 to 2014, the year the school closed. Half of the book is an autobiography, relating her years on campus.
The April 11 meeting is in partnership with the Bristol Public Library's mission of "Expanding Minds and Building Community". The meeting is open to the general public to attend. Contact Tim Buchanan, president, for details of this or other upcoming programs, by e-mail; buchanan03@bvu.net.
April 12 | Birthplace of Country Music Museum
Multi-instrumentalist Dr. Lee Bidgood, Assistant Professor of Bluegrass, Old Time, and Country Music Studies at East Tennessee State University (ETSU), will present a lecture detailing the history of mandolin orchestras, their wide repertoire, and some of the catalogs of companies like Gibson who marketed mandolin and banjo orchestras. A performance by the ETSU Mandolin Orchestra – one of the newest ensembles within ETSU's Bluegrass, Old Time, and Country Music Studies program – will also be part of this event.
This is a free event.
April 12 | Bristol Public Library
As part of King University's commemoration of the 400th anniversary of William Shakespeare's death, Professor Ralph Cohen will speak on the performance of Shakespeare's plays. Co-sponsored with the Arts Alliance Mountain Empire and the Bristol Public Library, this lecture will take place Tuesday, April 12 at 7 p.m. in the Kegley Room at the Bristol Public Library in downtown Bristol, Va.
Cohen is the founder of Mary Baldwin College's Master of Letters and Fine Arts program and a professor of Shakespeare and performance.
As co-founder and director of mission for the American Shakespeare Center, Cohen has achieved international recognition for his work in Shakespearean performance. In 2008, he, along with Jim Warren, co-founder of the ASC, was recognized by the Commonwealth Governor's Arts Award. In 2013, the Folger Shakespeare Library granted him the Shakespeare Steward Award for promoting the innovative teaching of Shakespeare in American classrooms.
"Generations of King students have enjoyed trips to the New Blackfriars Theatre to see American Shakespeare Center performances," says Martin Dotterweich, associate professor of History. "Ralph Cohen had the bold vision to bring original staging of Shakespeare to southern Appalachia, and we look forward to his reflections on the 400th anniversary of the death of the Bard."
In 2014, Cohen became the first American to receive Shakespeare's Globe Theater's most prestigious honor: the Sam Wanamaker Award. Neil Constable, chief executive of Shakespeare's Globe, had this to say of the award: "We want to shine the light on Ralph and recognize the enormous contribution he has made to the appreciation of Shakespeare performance, teaching, scholarly debate and, not least, for being a major inspiration behind our own candlelit Sam Wanamaker Playhouse."
For more information, contact King University's Chair of the English Department Dr. J. Craig McDonald at 423.652.6320 or jcmcdona@king.edu.
Also Coming Up
More Upcoming Events »
Community Notice Board
Through April 8
Click here to view weekly specials.